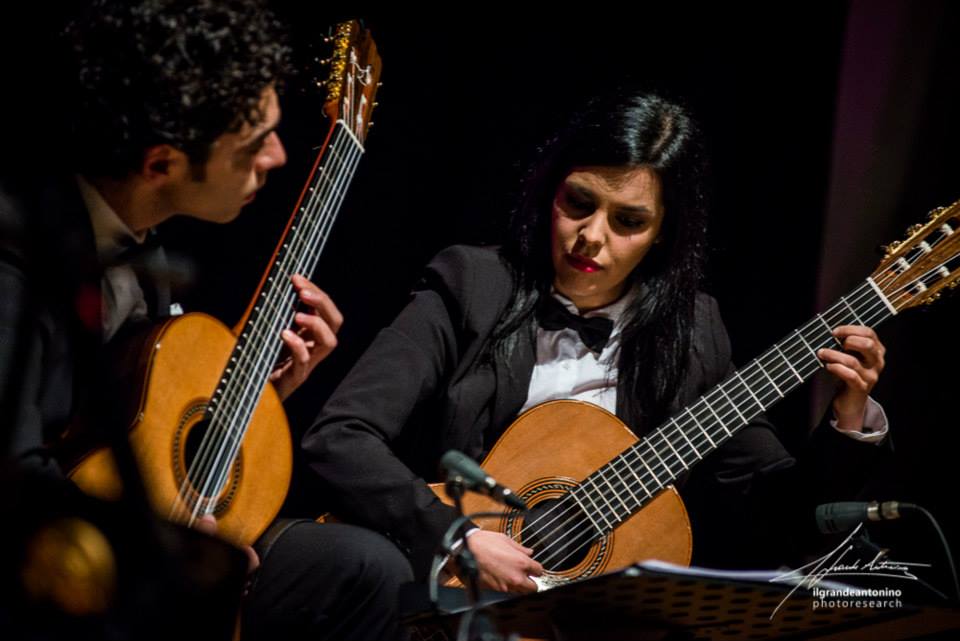 Carmelo Imbesi and Carmen Zangara are teachers at the Conservatory P.I. Tchaikovsky (Cz – Italy) and acclaimed concertist by the public and critics for their brilliant technique, passion, quality of sound and elegance.
They musically met in 2010 after a long career as soloist and in other chamber formation.
For deepen the original repertoire and executive technical aspects of chamber guitar duo rely on their training to M° Giovanni Puddu and M° Giampaolo Bandini, with which face a profound journey of artistic maturation act to strengthen the unity of style and execution aesthetic interpretation that, today, characterizes their performances.
Also, to expande their instrumental research, they dedicate to transcriptions and revision of many works not originally designed for this formation, that can valorize the potential of guitar duo formation and the versatility of their technique. Many composers dedicated their works to them.
From 2010 they have performed in important Festivals, Theatres and Music events : Naxos Winter Festival, Umbria Classica, Taormina Greek Teather, Catania Greek-Roman Theater, Tao Art Festival ,Campus Afam, Castello Carafa, Teatro Placido Mandanici, Teatro Trifiletti, Teatro Rendano, Teatro Ariston Sanremo, Teatro Grandinetti, Igualada (Spain), Noto Atto Unico, Festival Orchestre a Plettro, Quinteatro, Lamezia Classical, Festival Giorgio Gaber etc also collaborating in several Operas and Theater performance (I Pagliacci, M and Mr. G, Novecento di Alessandro Baricco, Missa Creolla, Canto Mediterraneo etc) […] as performers or music authors, also including languages like: Jazz and World Music.
Collaboration: Peppe Servillo, Anita Vitale, Mario Incudine, Antonio Vasta, Giorgio Rizzo, Ivan Bertolami,il soprano Teresa Cardace, Gran Coro Lirico Siciliano and others.
In 2018 they receveidthe Gattopardo Ibleo Prize, an award for Sicilian personalities who distinguished themselves for their artistic skills.
The passion for teaching, begun during the years of training, ranging through multiple paths that see them engaged in a constant search on instrumental teaching through the study of Neuroscience (they earned, in fact, the Licensed Practitioner certification in NLP in the field of education, joining the Richard Bandler's NLP Society of USA), learning from the Trainers Stefano Santori and Giacomo Bruno, and proprioceptive knowledge, applied to the relationship with the musical instrument, to posture (they worked with the Personal Trainers Giuseppe Torre and Gerardo Martino integrating Mezieres, Feldenkrais, Anderson, Alexander, Pnf and similar methods) and to the executive performance, leading them, today, to becames Musician and Life Coaches (from 2013 onwards, the references of their services can be found on Canale Formazione.com too).
Today, they are invite at Campus and International Masterclasses where, in addition to repertoires study and technical-mechanical development, they deal with many themes about Instrumental Teaching Methodology, Posture studies, Show Business Law, Aesthetics and Interpretation.
In 2013 they founded the J.K Mertz Guitar Accademy located in Barcellona Pozzo di Gotto and Vibo Valentia, educational and research center, where in addition to teaching, are concerned with the promotion of cultural events.
They playing two guitars by the Argentine Liuther Walter Ceferino Rosso.
About us:
«Valiant music qualities with highly-qualified original interpretations. The harmony showed by the duo during the concert, played a key role for the accurate execution carried out according correct interpretation rules».(Strumenti & Musica)
« A special mention for the depth of their interpretations of Edgberto Gismonti's works »(Ibla Gran Prize Giury)
« I witnessed them play together this last July in Sicily… honestly that turned out to be one of the most soulful and most profound musical experiences I had ever been through! Their chemistry and musical interaction is just effortless and so genuine.»( M. Alexander – Composer)
« I immediately appreciated their talent and I was conquered by their art in playing, which is not for everyone, so I decided that one day I would have rewarded them and so it was. We need to support true talents and reward those who truly deserve it » (A. Campo – FilmMaker)