«Acclaimed by the audience and critics for their brilliant technique,passion, quality of sound and elegance, Carmelo Imbesi and Carmen Zangara are one of the most interesting and appreciated Italian Chamber Guitar duo .» October 2019 | M.Today 

December 12, 2010 we met for the first time in Conservatory. Two students both teaching assistants. The Director invited us to give a concert 10 days later.
Playing together was very easy and natural for us, we were amazed by this thing.
So on the 22nd our guitars went on stage together for the first time and we have never stopped since then.
Degrees, Advanced Courses, Masters, Awards, teaching … Always together.
Victories and failures, good and bad experiences: the second necessary and vital, they never scare us.
Together we have never been afraid of falling.
Today we are a family.
Carmelo and Carmen musically met in 2010.
For deepen the executive technical aspects of chamber guitar duo rely on their training to M° Giovanni Puddu and M° Giampaolo Bandini, with which face a profound journey of artistic maturation act to strengthen the unity of style and execution aesthetic interpretation that, today, characterizes their performances and their identity as performers.
They attend the masterclasses and didattic seminary of Maestro Angelo Gilardino, Giulio Tampalini, Eduardo Isaac, David Murgadas […]. On the Jazz and Fingerstyle: Francesco Angiuli, Massimo Varini, Luca Colombo.
From 2010 they have performed in important Festivals, Theatres and Music events, in Italy and throughout Europe : Naxos Winter Festival, Umbria Classica, Taormina Greek Teather,Catania Greek-Roman Theater, Tao Art Festival , Teatro Politeama, Campus Afam, Castello Carafa, Teatro Placido Mandanici, Teatro Trifiletti, Teatro Rendano, Teatro Ariston Sanremo, Teatro Grandinetti, Igualada, Noto Atto Unico, Festival Orchestre a Plettro, Quinteatro, Lamezia Classical, Festival Giorgio Gaber […] and appreciated for their brilliant technique, passion, quality of sound and elegance.
Also Collaborating in several Operas (I Pagliacci di R. Leoncavallo, Misa Criolla di A. Ramirez ) and Theater performance as performers or music composer ( 2015 Novecento of A. Baricco and 2018 for Gabbiano Jonathan Livingston by R.Bach, produced by the director Ivan Bertolami, 2012 they arranged the music monolgue of Me & Mr. G Non è il Classico Gaber, 2017 Canto Mediterraneo by Mario Incudine), also including languages like Jazz and World Music. Feauturing important artist as Peppe Servillo, Mario Incudine, Gran Coro Lirico Siciliano, Coro Overture, Antonio Vasta […]
To expande their instrumental research, they dedicate to transcriptions and revision of many works not originally designed for this formation, that can valorize the potential of guitar duo formation and the versatility of their technique. Their works are published by the Da Vinci Edition and the JK Mertz Edition. They are also curators of critical editions for Edizioni Suvini Zerboni – Sugar Music. In 2022 they edited the critical edition of the manuscript "Rondo Von Paganini", the first historical arrangement of Niccolò Paganini's music for two guitars founded in the Rischel & Birket-Smith Collection of the Royal Library of Denmark in Copenhagen.
Many composers like C.F. Defranceschi, R. Iervolino, F. Stumpo, M. Alexander dedicated their works to them and commissioned world premiere recording.
In 2017 they founded, for the Wambooka Srl, the Zarim Chamber Trio, with the percussionist Giorgio Rizzo, a crossover project beetween oriental percussion and classical music.
They won competitions as soloist and chamber music, the last was Ibla Grand Prize 2018. They receveid the Gattopardo Ibleo Prize, an award for Sicilian personalities who distinguished themselves for their artistic skills (All of Fame 2018) and the Special Mention from Ibla Grand Prize Jury for Edgberto Gismonti's work interpretation. In 2019 they receveid Grotta di Polifemo Prize during Milazzo International Film Festival, a music award for Soundtrack (All of Fame 2019) and the ERASMUS+ recognition as teachers and Music Coach Trainers.
We are a family and Music is our Home.

An idea of ​​dialogue and continuous interaction between us and our guitars.

Two instruments that describe moods and soundscapes, which come together to seek a common identity and move away to give light to their own.

An interpretation that knows the historical idea of execution but knows how to distance from it to offer a modern vision of classical language, with an idea of ​​sound linked to the present but capable of evoking the past.

Classical Music is a useful language for the interpreter to tell who he is and what he feels while playing an opera.

We do not share the idea of ​​being Music servants: limit yourself and kill your sensitivity.

We play because Music completes us, makes us feel good and allows us to talk about ourselves.

In our house only one rule: respect for identity.
In 2020 they are selected by the town of Palazzo Adriano, set of the Film Nuovo Cinema Paradiso by G. Tornatore, to be the protagonists of the videoclip, dedicated to the memory of Ennio Morricone and celebration of the 30th anniversary of the Oscar, focused on the music soundtrack of the movie transcribed for two guitars, recorded on the original movie's set.
They are artists recording for the Classical Music 3.0 record label. Their productions combines monographs albums based on the masterworks repertoire for guitar duo with unpublished and rarely repertoires for this formation. Albums released: Francesco da Milano Complete Duets, Noir Love: Takemitsu for Guitar Duo, Nuovo Cinema Paradiso Suite (Ep), Storie Dipinte: Improvvisi per due Chitarre (original music), Gismonti Duets, Tocando en Dos (music by Tarrega, Aguado, Arcas) and the singles Pomelie Miniatura for two Guitars and Mi Virgen de Guadalupe. These last two works were dedicated by the composer Carlo F. Defranceschi to their duo and in Mi Virgen de Guadalupe Carmen sing and play guitar.
In 2021 they are joined in the Metatrongroup Management for the record label INRI Classic like composers debuting with Rainy Sunset – memories from a picture inspired by sunsets of Sicily and Calabria. In June 2022 release Tears of War inspired by the war between Russia and Ucraina joined into Universal Music Group Italy and receiving a gratitude's letter by Papa Francesco.
From 2010 they are teachers in many Music University. From 2021 at Conservatory V. Bellini in Caltanissetta ( Sicily ).
As coaches for musicians are licensed Practitioner at Richard Bandler's NLP Society of USA.
Today, they are invite at Campus and International Masterclasses where, in addition to repertoires study and technical-mechanical development, they deal with many themes about Instrumental Teaching Methodology, Posture studies, Show Business Law, music Interpretation and live performance.
Art Directors of Festivals (Classically from 2011 to 2017) Campus, Masterclasses and training centers (Ass. Music & Art, Ass. Melos, Accademia Santa Venere), in 2013 they founded the J.K Mertz Guitar Academy located in Sicily. In 2019 Academy become a Euroepan Music Istitute for Erasmus+ Students in collaboration with Eprojectconsult.
Carmen is a music content writer for some webmagazines and a pop singer.
Carmelo is a lawyer specializing in Entertainment Law.
Endorsement
2010 Liuther W.C. Rosso
2012 Aquila Corde Armoniche
2019 Myoglove by Wambooka srl
Last Awards
2018 Gattopardo Ibleo Prize Golden Globe 2018
2018 Ibla Grand Prize E.Gismonti Special Mention
2019 Milazzo International Film Festival Golden Globe
2019 ERASMUS+ Teachers and Coaches
About us:
«Valiant music qualities with highly-qualified original interpretations. The harmony showed by the duo during the concert, played a key role for the accurate execution carried out according correct interpretation rules». (Strumenti & Musica)
« A special mention for the depth of their interpretations of Edgberto Gismonti's works » (Ibla Gran Prize Giury)
« I witnessed them play together this last July in Sicily… honestly that turned out to be one of the most soulful and most profound musical experiences I had ever been through! Their chemistry and musical interaction is just effortless and so genuine.» ( M. Alexander – Composer)
« A wonderful Duo, I've been to some concerts ... all beautiful ... Musically, in the repertoire and in the performance ... The audience has appreciated very much and personally I was ecstatic.» ( S. Martemucci – Tenor)
« I immediately appreciated their talent and I was conquered by their art in playing, which is not for everyone, so I decided that one day I would have rewarded them and so it was. We need to support true talents and reward those who truly deserve it » 

(A. Campo – FilmMaker)
« The two artists have explored the repertoire of six historical-musical periods, showing, as in a palette, the melodic, timbre and coloristic facets. Dowland, Giuliani, Albeniz, Mertz, Brouwer and Bellinati have been united by rigorous and careful interpretations but also full of pathos and deep understanding that describe the style of the duo. » (Ciao Classica )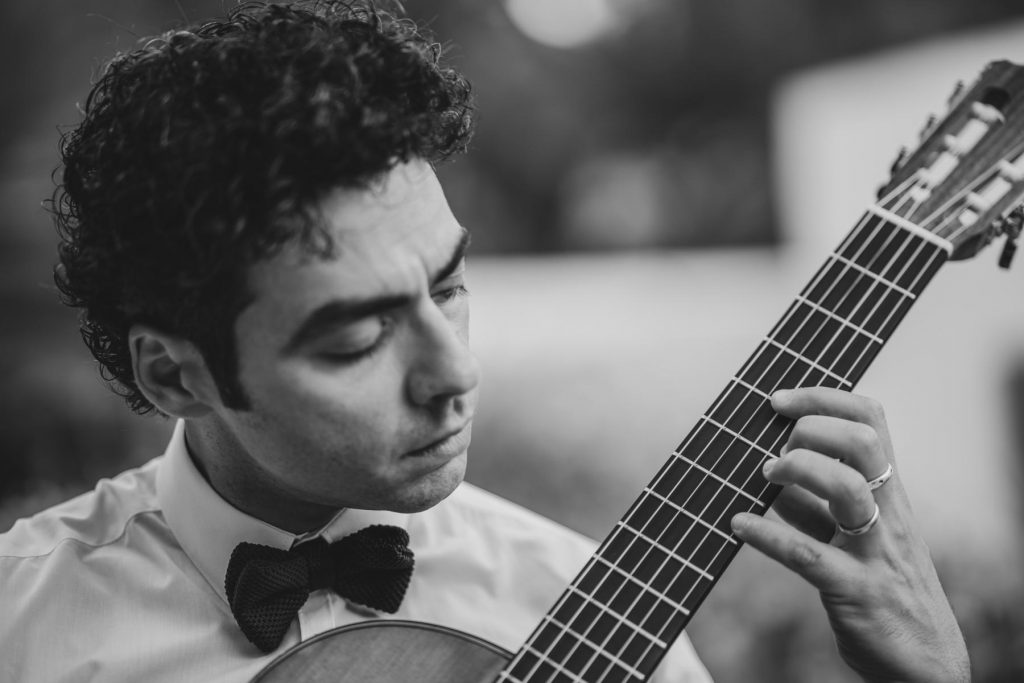 CARMELO IMBESI
He was born in Barcellona Pozzo di Gotto (Messina), Sicily.
As a child, he has nourished his education through drawing, poetry, music, dance and theatre. He approached the guitar world when he was 10, having his first experiences as a self-taught person and in several bands.
After Classical Gymnasium graduation, he graduated at "P.I. Tchaikovsky" Conservatoire in Nocera Terinese (CZ) with the top marks and the publishing right of the double extracurricular thesis "Le Rossiniane: lo stile giammai conosciuto". Then, he got the Master of Music Degree in Music Disciplines with the top marks cum laude, with the thesis "Manuel de falla: Poeta dell'Anima Spagnola". In 2009 he obtained a fellowship at the Conservatory as Guitar assistant professionship.
Today, his studies concern themes related to Aesthetics and Music Phenomenology, also including fields expanding his knowledge such as Jazz, World Music, Improvisation and Composition.
He already gave many concerts during the studies period, regularly holding recitals as a soloist, in chamber music groups. He plays in a duo with the M. Carmen Zangarà since 2010 improving with the M. Giovanni Puddu and M.Giampaolo Bandini, with whom he obtained a two-year Master of chamber music.
Different paths that he has been engaged in a constant search on instrumental teaching, also made through the study of Neuroscience (he earned, in fact, the NLP Licensed Practitioner certification in the educational field, joining the Richard Bandler's NLP Society of USA), learning from the Trainers Stefano Santori and Giacomo Bruno, and proprioceptive knowledge, applied to the relationship with the musical instrument, to posture (he studied with the Personal Trainers Giuseppe Torre and Gerardo Martino integrating Mezières, Feldenkrais, Anderson, Alexander, Pnf and similar methods) and to the executive performance, leading him, to practise coaching for musicians.
Moreover, he studied the themes of Negotiation and Selling, Webmarketing, Leadership, Team Bulding, Personal, Professional and Financial Education with several nationally well-known NLP Trainers (Raffaele Galasso, Giacomo Bruno, Roberto Re, Stefano Santori).
He is professor in many Italian Music University since 2011. He is the president of the "J.K. Mertz" Guitar Academy, located in Barcellona P.g., that he founded, together with Carmen Zangarà, in 2013.
In addition to the academic program, he graduated in Legal Studies in 2009 at the Law at the University of Messina with the thesis: "La crittografica: L'arte di non farsi Capire".
He earned the Five-years Master's Degree in 2015 with the thesis: "Licenze Creative Commons: Verso il Copyright 2.0".
He obtained the Show Business Law' Master with Altalex Counseling and currently practises the profession of legal advisor and assistant in Show Business Organisation and Legislation, and Copyright at the Alfano-Imbesi Law Firm in Barcellona P.g., also regularly holding seminars on subject.
He love Books, Cinema, Poem, Sport (Body Building and Boxe), Travel, Meditation, Gaming and the Elegance.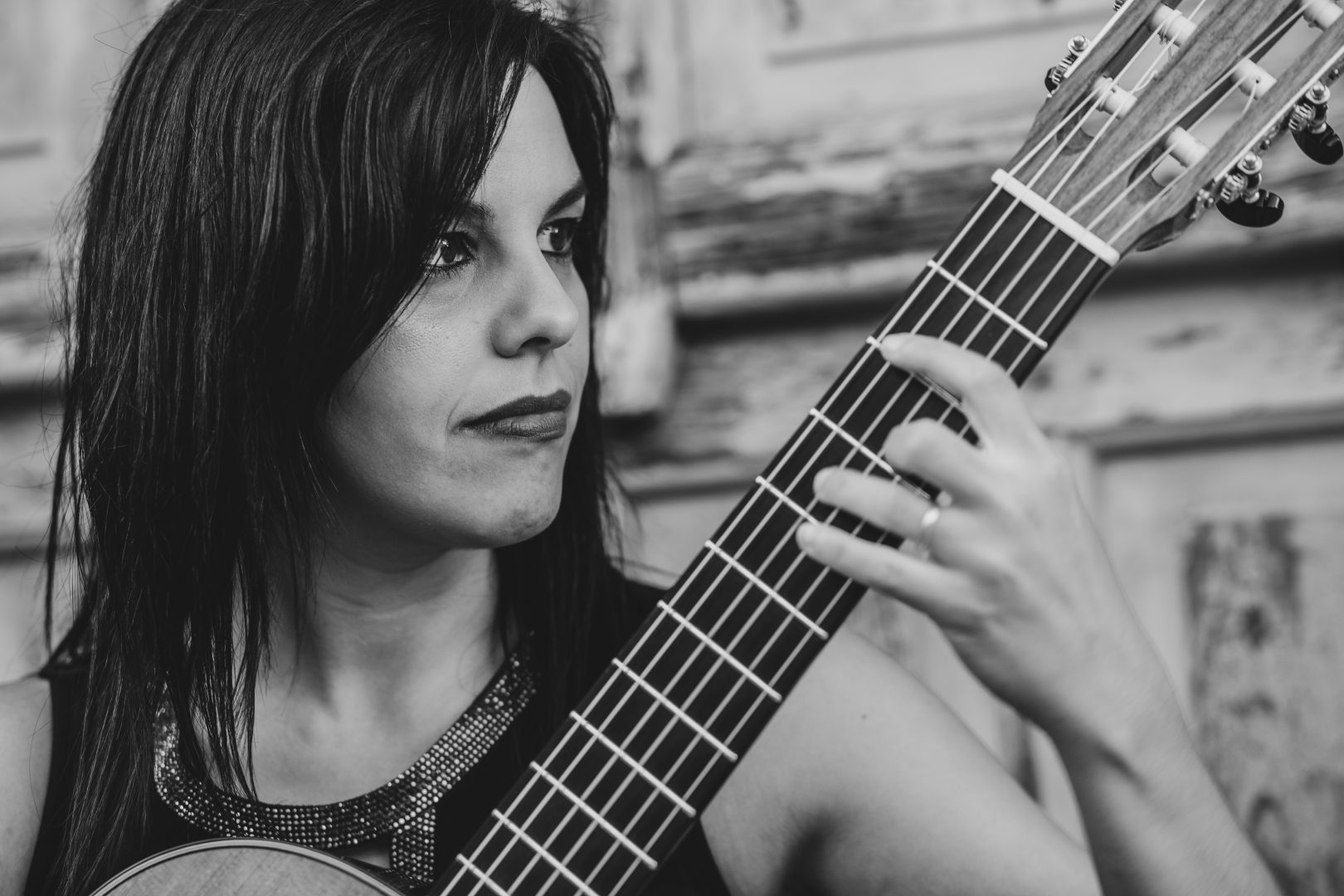 CARMEN ZANGARA'
She was born in Seregno an showed an aptitude for music through singing and curiosity towards sounds from an early age, in fact spending many hours playing with the various musical instruments found in her home.
His father Vittorio, drummer and musician, seeing in her a natural ability to practice instrumental and an ear capable of immediately reproducing any melody, takes her with him during his evenings and begins to bring her closer to the study of music.
At the age of eight she moved to Vibo Valentia, in Calabria, his family's country of origin, where he officially began his career with the guitar at the Musikè Academy (VV), followed by the M. A. De Rito and the M. Francesco Locane.
She continues her study at Vibo Valentia's Conservatory with the M Marco Rossetti and the M. Simonetta Camilletti, until the meeting with M. Giuliano Macrì, who guided her towards the graduation at "P.I. Tchaikovsky" Conservatory and with whom she started the study on teaching, becoming Assistant.
She got the Master of Music Degree in Music Disciplines in 2013 with a thesis in Teaching Methodology entitled: "Emilio Pujol e Abel Carlevaro: un confronto didattico". She got degree in " MODERN LANGUAGES AND LITERATURES at Carlo Bo University in Urbino whit a thesis about the relationship between Music and Poetry during the 900's Spain Litterature.
She improved both as a Soloist and in Chamber Music with the M° Giovanni Puddu and Giampaolo Bandini, with whom he obtained a two-year Master of chamber music.
Today, her studies concern themes related to Teaching Methodology, Didactics and Propedeutic.
She is professor in many Italian Music University since 2011.
Her activity as a teacher is intense and she gave many concerts as well, both as a soloist and in chamber music groups, in fact, she took part in important international campus and festivals: Naxos Winter Campus, Campus AFAM ,Festival Atto Unico of Noto, Festival Giorgio Gaber, Umbria Classica, TaoArte, Festival Orchestre a Plettro, Lamezia Classica, besides standing out in National and International competitions, both in Italy and Spain, for her music talent.
Many paths engaged her in a constant research on instrumental teaching, also made through the study of Neuroscience (she earned, in fact, the Licensed Practitioner certification in NLP in the field of education, joining the Richard Bandler's NLP Society of USA), learning from the Trainers Stefano Santori and Giacomo Bruno, and proprioceptive knowledge, applied to the relationship with the musical instrument, to posture (she studied with the Personal Trainers Giuseppe Torre and Gerardo Martino integrating Mezières, Feldenkrais, Anderson, Alexander, Pnf and similar methods) and to the executive performance, leading her, to practise the profession of Music & Life Coach (from 2013 onwards the references of her services can be found on Canale Formazione.com too).
She obtained the Master in Show Business Law with Altalex Counseling in 2014.
She is the Vice-President and the Artistic Director of the "J.K. Mertz" Guitar Academy, based in Barcellona P.g., that she founded, together with Carmelo Imbesi, in 2013.
She is frontman of the event band Blue Mood where sing (inspired by the great voices of Mina, Giorgia and Silvia Mezzanotte) plays bass, guitar and keyboards.
She loves reading, writing, traveling, cooking, flowers, elegance and sport.