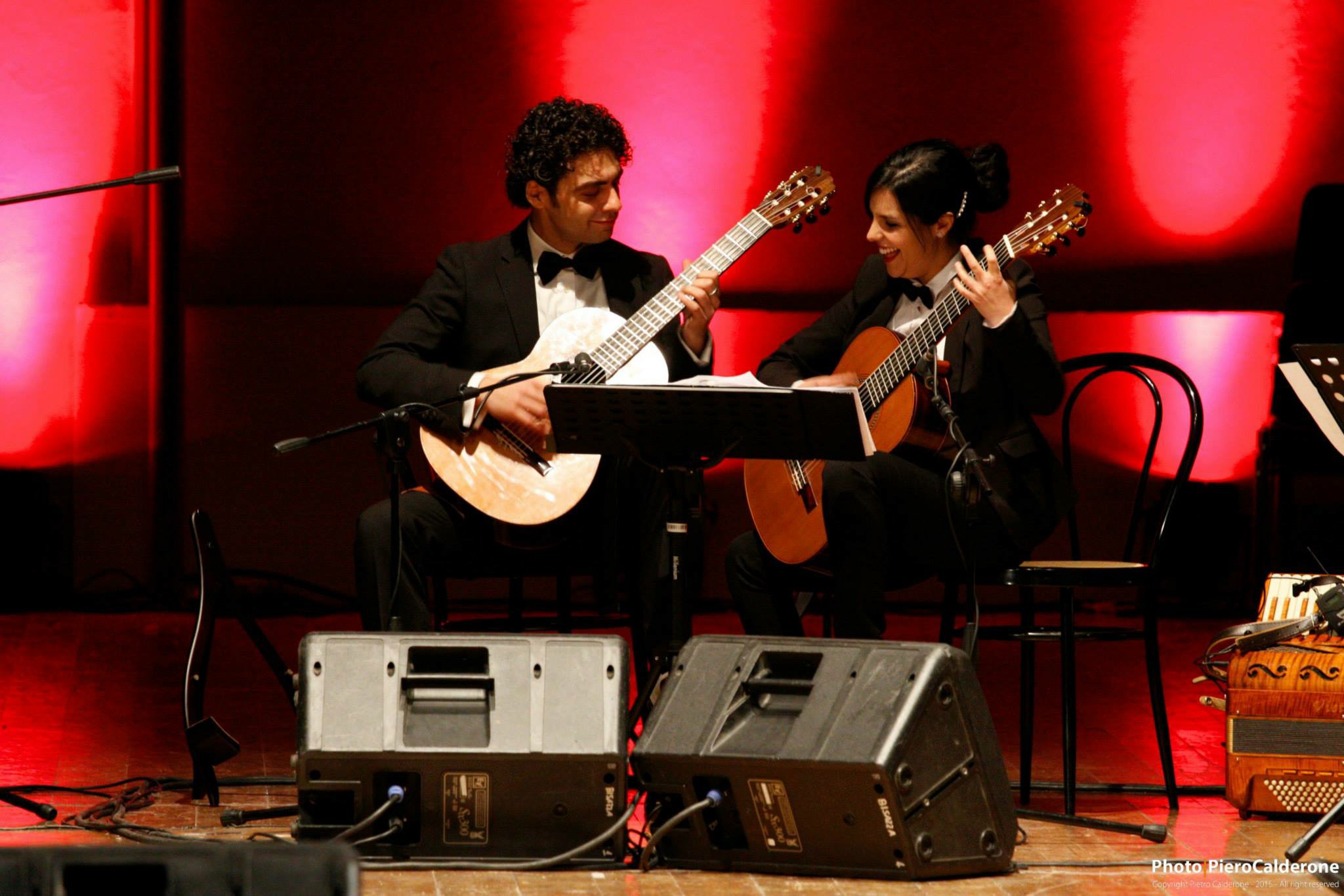 Six Musical Colors (2018)
Six Ages | Six Autors | Six Musical Moments

Musiche di
John Dowland (English Renaissance) | Domenico Scarlatti ( Italian Baroque ) | Mauro Giuliani ( Viennes Classicism ) | Johann Kaspar Mertz (Romance Hungarian) | Joaquin Rodrigo ( Spanish Impressionism ) | Leo Brouwer ( Contemporany Cuba)
___________________________________________________________________________________________________________
Divertaissement du Salon – Salotti Musicali (2018)
Dances and Musical Games for Guitar Duo
Musiche di G. Rossini, M.Giuliani, J.K. Mertz, E. Granados, E. Gismonti
Danze e Giochi di Suoni: Polacche, Marzurke, Fantasie e Vals. Da Rossini al suggestivo Gismonti, momenti di musica ricchi di enfasi e cantabilità dove le due chitarre dialogano, si sfidano e giocano con i loro timbri in uno scambio di ritmi informale e spensierato.
_____________________________________________________________________________________________________________
Musical Moments*
Musiche di J. Dowland , M. Giuliani, F. Sor, M. Castelnuovo-Tedesco, I. Albeniz, P. Bellinati
The guitar has crossed moments when the production was rich and almost excessive, its concert life as a soloist, chamber and orchestra was the star and oblivion moments, now popular instrument and accompaniment, time for fun tool.
The fact remains that its history has never stopped, nor from the organological point of view , surpassing by some ways, the volume limit, as they search for the writing designed to give light to its expressive potential, arousing the admiration also other authors such as C. Debussy, Benjamin Britten, Petrassi.
The desire to create a recital that it can enhance the potential of the instrument today, now full of many colors and sounds, through the choice of authors, composers and guitarists is they do not, that made up of rare musical beauty pages.
---
Beetween Classic and Romantica
Guitar Duo Chamber Music
Music Of Mauro Giuliani e Johann Kaspar Mertz
The nineteenth century saw Vienna as a place of worship and a flourishing center for the most important composers of the time. In aristocratic salons and concert halls they conversed and found fertile ground for their thinking artists like Beethoven, Haydn, Mozart.
Among the guitarists- composers who managed to create a space of respect for their executive talent, Mauro Giuliani and J. K Mertz represent the reference pillars for the six strings.
Their production presents a strong innovative impact for the time, for the instrumental technique, the timbre research, for melodiousness, always present before the writing dense, to be released out of the compositional time and have approached a nurtured by piano composition examples, chamber and orchestral …
Two virtuosos who left an indelible mark before the shut guitar his golden period, pending the skilled hands of Andres Segovia.
---