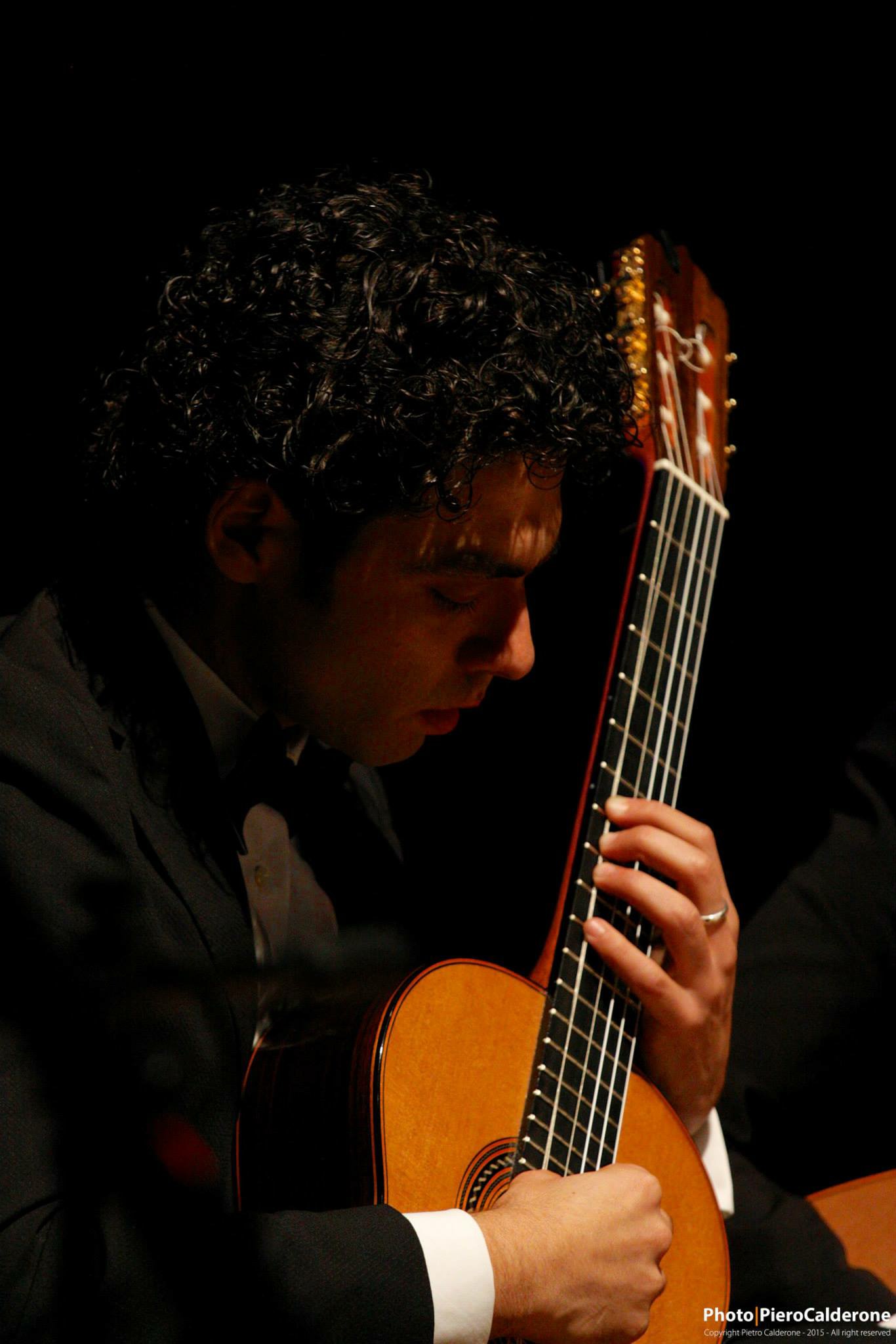 He was born in Barcellona Pozzo di Gotto (Messina), Sicily.
As a child, he has nourished his education through drawing, poetry, music, dance and theatre. He approached the guitar world when he was 10, having his first experiences as a self-taught person and in several local bands.
After Classical Gymnasium graduation, he graduated at "P.I. Tchaikovsky" Conservatoire in Nocera Terinese (CZ) with the top marks and the publishing right of the double extracurricular thesis "Le Rossiniane: lo stile giammai conosciuto". Then, he got the Master of Music Degree in Music Disciplines with the top marks cum laude, with the thesis "Manuel de falla: Poeta dell'Anima Spagnola". In 2009 he obtained a fellowship at the Conservatory as Guitar assistant professionship.
He attended the Masterclasses and the educational Seminars by M.M.s Angelo Gilardino, Giulio Tampalini and Nello Alessi, and improved with the M.M.s Giovanni Puddu and Giampaolo Bandini. Jazz and FingerStyle: Francesco Angiuli, Massimo Varini, Ferruccio Messinese, Pasquale Morgante

Today, his studies concern themes related to Aesthetics and Music Phenomenology, also including fields expanding his knowledge such as Jazz, World Music, Improvisation and Composition.
He has taught Guitar and Show Business law at "P.I. Tchaikovsky" Conservatory in Nocera Terinese since 2010.
He already gave many concerts during the studies period, regularly holding recitals as a soloist, in chamber music groups , in Theatre, in fact, he was a guest at important International Campus and Festivals: Naxos Winter Festival, Umbria Classica, Teatro Greco di Taormina, Teatro Greco-Romano di Catania, Tao Arte Festival, Campus Afam e Festival in Campus, Castello Carafa, Teatro Jalari, Teatro Placido Mandanici, Teatro Trifiletti, Teatro Rendano, Teatro Grandinetti, Noto Atto Unico, Festival Orchestre a Plettro, Quinteatro, Lamezia Classical, Festival Giorgio Gaber etc

He plays in a duo with the M. Carmen Zangarà since 2010 improving with the M. Giovanni Puddu and M.Giampaolo Bandini, with whom he obtained a two-year Master of chamber music.
Different paths that he has been engaged in a constant search on instrumental teaching, also made through the study of Neuroscience (he earned, in fact, the NLP Licensed Practitioner certification in the educational field, joining the Richard Bandler's NLP Society of USA), learning from the Trainers Stefano Santori and Giacomo Bruno, and proprioceptive knowledge, applied to the relationship with the musical instrument, to posture (he studied with the Personal Trainers Giuseppe Torre and Gerardo Martino integrating Mezières, Feldenkrais, Anderson, Alexander, Pnf and similar methods) and to the executive performance, leading him, to practiseMusic & Life Coach profession ( his services are also referenced by Canale Formazione.com).
Moreover, he studied the themes of Negotiation and Selling, Webmarketing, Leadership, Team Bulding, Personal, Professional and Financial Education with several nationally well-known NLP Trainers (Raffaele Galasso, Giacomo Bruno, Roberto Re, Stefano Santori).
In addition to the academic program, he graduated in Legal Studies in 2009 at the Law at the University of Messina with the thesis: "La crittografica: L'arte di non farsi Capire".
He earned the Five-years Master's Degree in 2015 with the thesis: "Licenze Creative Commons: Verso il Copyright 2.0".
He obtained the Show Business Law' Master with Altalex Counseling and currently practises the profession of legal advisor and assistant in Show Business Organisation and Legislation, and Copyright at the Alfano-Imbesi Law Firm in Barcellona P.g., also regularly holding seminars on subject.
He is the president of the "J.K. Mertz" Guitar Academy, located in Barcellona P.g., that he founded, together with Carmen Zangarà, in 2013.
He is the Artistic Director of the Section devoted to Classical Music in ESPRESSIVAMENTE, Festival organised by Parco Museo Jalari, and promoter of cultural Events.
He plays guitars made by the Argentine Luthier Walter C. Rosso.